Product successfully added to your shopping cart
There are

0

items in your cart.
There is 1 item in your cart.
Total products (tax incl.)
Total shipping (tax incl.)
Free shipping!
Premium Prestashop Template
Leaf mold or Taphrina deformans

Categories : Fruit-tree , Pests
Have you noted that the leaves of your peach tree tend to coil? If this is so, we are confronting a fungi by the name of Tahrina deformans, or leaf mold
Description of the fungus: One can see the symptoms in spring and this fungi acts upon the leaves.making the leaves coil. Spores are on the plant from one year to the next on the affected plant
Species affected: peach and nectarine.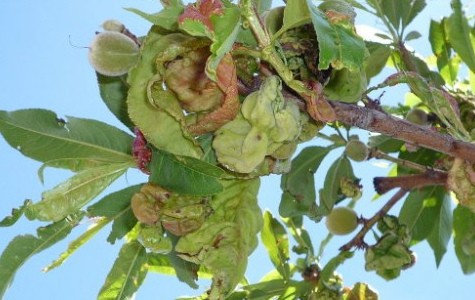 - For packs 15 l: spray one packet of copper nordox 75wg of 15 g. Apply preventively: In late winter. At the onset of symptoms 1 can apply contact fungicideDaconil 50 SC 30 cc.
- For higher capacities: Cobreline contact fungicide sprayinga triple dose of 1.5-2.5 kg / ha mixed with water.Apply preventively: In late winter.
CONTROL METHODS
Preventive treatments in winter with horticultural oil mixed with phosphorus insecticide. It also recommended the application of a copper based fungicide.
When starting a new treatment it is recomended to use another funcgicide with (Captan).
SYMPTOMS AND DAMAGE
Easy identification: coiled red leaves in spring, in the form of bumps.
After a month and a half the leaves fall to the ground and the tree weakens doesn't give fruit, and can die if not treated.
It becomes very serious in small trees.
In flowers and fruit important deformations can occurr.