Product successfully added to your shopping cart
There are

0

items in your cart.
There is 1 item in your cart.
Total products (tax incl.)
Total shipping (tax incl.)
Free shipping!
Premium Prestashop Template
Evergree oak pest (Kermes vermilio)
Have you noticed that lately that the leaves of your evergreen oaks dry up and present small red pock marks on their seedlings? Probably this oak is affected by the evergreen oak pest.
Pest Description: homoptera.
Species affected: oaks.
Biology: a single annual generation. Beginning of summer the females lay their eggs (terminal areas of the sprouts or seedlings). The eggs are protected by the body of the female.
The larvae when they hatch, colonize the tender parts of the plant (the period can last all summer). From here the female withers and dies (leaving the tree trunk). In winter the larvae hide and hibernate until spring moult and become adults.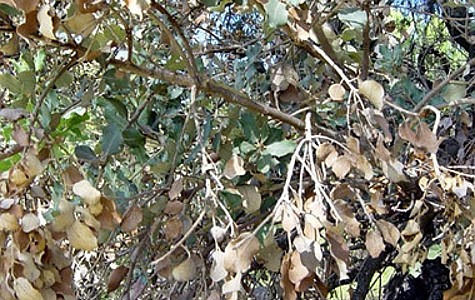 - For a pack of 15 l:Spray 1 can of Atominal insecticide 10EC 10cc mixed with 1 can of cc of contact insecticide 48 Cuspide citroline 30 cc and 250 ml (one dose of 15 ml / 1L water).
- For higher capacities: Atominal insecticide 10 EC (at a dose of 7.5 cc/10 l of water) mixed with Cuspide contact insecticide or Gufos 48 (at a dose of 20 cc/10 l water) and oil insecticide Ivenol Masso (cc/10 dose of 100 l of water).
CONTROL METHODS
The optimal time for insecticide treatments is in summer.
We recommend applying horticultural oil + phosphorous insecticide. Even so,one should repeat this phytosanitary treatment various times.
SYMPTMOMS AND DAMAGE
Drying of the end leaves of the oak.
They feed on the sap of the oaks to cause an overall drying.
Presence of dry pellets (F) on the tree branches.